Sports Massage
Sports massage therapy is geared toward athletes of every kind, from world-class professionals to weekend joggers. The particulars of the sports massage technique are specific to the athlete's sport of choice. Focusing on areas of the body that are overused and stressed from repetitive and often aggressive movements
Many do not realize it, but the sports massage has certain characteristics that make it ideal for athletes. The targeting of the muscle and tendons within the body is key for athletic training. A study in 2010 in America found athletes who had massages before and after strength training saw a definite decrease in soreness after activity.The sports massage is now recognized by many in the training industry as an accepted component to an overall regimen of training and competition. This means the athlete can enhance pre-competition and reduce the required recovery period, which means a better and more intensive training session after competition. Flexibility, a necessary component of any athletic completion, is also a part.
For anyone participating in regular physical activity, sports massage therapy every week or two may be a great addition to your normal regimen. It's best to talk with a professional massage therapist to find a plan that will work best with your schedule and level of activity
Swedish Massage
Swedish massage is now gaining acceptance from the medical community as a complementary treatment. Studies have shown that massage can relax the body, decrease blood pressure and heart rate, and reduce stress and depression. It may also provide symptomatic relief for many chronic diseases. Many doctors now prescribe massage therapy as symptomatic treatment for headache , facial pain, carpal tunnel syndrome, arthritis, other chronic and acute conditions, stress, and athletic injuries.
Swedish massage is the most popular type of massage in the United States. It involves the use of hands, forearms or elbows to manipulate the superficial layers of the muscles to improve mental and physical health. Active or passive movement of the joints may also be part of the massage. The benefits of Swedish massage include increased blood circulation, mental and physical relaxation , decreased stress and muscle tension, and improved range of motion.This technique was brought to the United States from Sweden by two brothers, Dr. Charles and Dr. George Taylor in the 1850s. The specific techniques used in Swedish massage involve the application of long gliding strokes, friction, and kneading and tapping movements on the soft tissues of the body. Sometimes passive or active joint movements are also used.
Hot Stone Massage
The use of materials of different temperatures on the body to bring about healing is an ancient technique. Stones have been used in many cultures, such as in the Native American sweat lodge, to adjust the temperature of the healing environment. Traditional lomilomi (Hawaiian massage) goes further and applies heated stones directly to the body.
Although stones have been used for many years as an adjunct to bodywork, their use was formalized in 1993 by Mary Nelson-Hannigan of Tucson, Arizona. Nelson-Hannigan developed a form of massage using a system of 54 hot stones, 18 frozen stones, and one room-temperature stone, which she calls LaStone Therapy. In addition to the use of stones as an extension of the therapist's hands in deep tissue massage, LaStone Therapy involves a spiritual element that opens energy channels (chakras) in the body, unblocks memories, and brings about spiritual healing .
Combining hot stone therapy with a full body massage provides a very healing and effective experience it also has a sedative effect that can relieve chronic pain.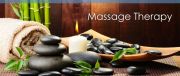 Deep Tissue Massage
Deep tissue massage is a type of massage therapy that focuses on realigning deeper layers of muscles. It is used for chronic aches and pain and contracted areas such as a stiff neck and upper back, low back pain, leg muscle tightness, and sore shoulders. Deep Tissue massages use similar strokes to the Swedish massage but pressures are longer, firmer and focus on areas of pain and tension. The therapist manipulates muscles that are below the surface of the top muscles and the connective tissues. Deep tissue massage works by physically breaking down adhesions (bands of painful, rigid tissue) to relieve pain and restore normal movement. To do this, the massage therapist uses massage oil and often uses direct deep pressure. Muscles must be relaxed in order for the therapist to reach the deeper musculature. People often notice improved range of motion immediately after a deep tissue massage.
Mention the areas of focus to your therapist before the session. Unlike relaxing Swedish massages, Deep tissue massages are quite intense and may result in discomfort. It shouldn't be painful though, so don't hesitate to tell the therapist if it hurts. Deep breathing during the bodywork helps releasing discomfort. You may experience another muscle ache after the massage: take a warm bath, drink plenty of water and rest. It will go away after a day or two.
Pre-Natal Massage
Modern investigation and research has shown that prenatal massage therapy can be an instrumental ingredient in women's prenatal care and should be given careful consideration. Studies indicate that massage therapy performed during pregnancy can reduce anxiety, decrease symptoms of depression, relieve muscle aches and joint pains, and improve labor outcomes and newborn health. Massage therapy addresses different needs through varying techniques, one of which is called Swedish Massage. Swedish Massage aims to relax muscle tension and improve lymphatic and blood circulation through mild pressure applied to the muscle groups of the body. Studies done in the past 10 years have shown that hormone levels associated with relaxation and stress are significantly altered when massage therapy is introduced to women's prenatal care. This leads to mood regulation and improved cardiovascular health. Massage therapy addresses the inflamed nerves by helping to release the tension on nearby muscles. Many women have experienced a significant reduction in sciatic nerve pain during pregnancy through massage.
Therapeutic Massage
Therapeutic massage incorporates a variety of advanced modalities that enhance the body's natural restorative functioning. Light to firm touch is used to release tension, relax muscles, increase blood and lymph circulation, and impart a sense of calm. Therapeutic massage can be used as a collaborative, supportive addition to conventional medical treatment of illness and injury, alleviating pain and stress, aiding soft tissue healing, and revitalizing the body. Also, regular massage can enhance health, providing relaxation, release of muscle tightness, relief from anxiety and tensions, and balancing aspects of body/mind/spirit.
Research has shown that therapeutic massage techniques may be helpful in the following conditions:
Stress, Anxiety, Depression: promotes relaxation response, enhances coping mechanisms in patients undergoing treatment for cancer, reduces symptoms of anxiety, depression and stress disorders
Pain control: fibromyalgia, arthritis, sciatica, headaches, childbirth
Chronic lung disease: increases respiratory function and decreases anxiety
Digestive: adjunctive therapy to treatment of chronic constipation
Injuries: overuse and repetitive strain injuries, workplace and athletic trauma, whiplash
therapeutic and decorative Heat/ Cold pillows available for purchase at Tranquil Wave Massage !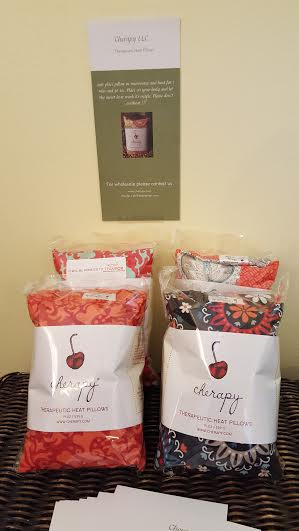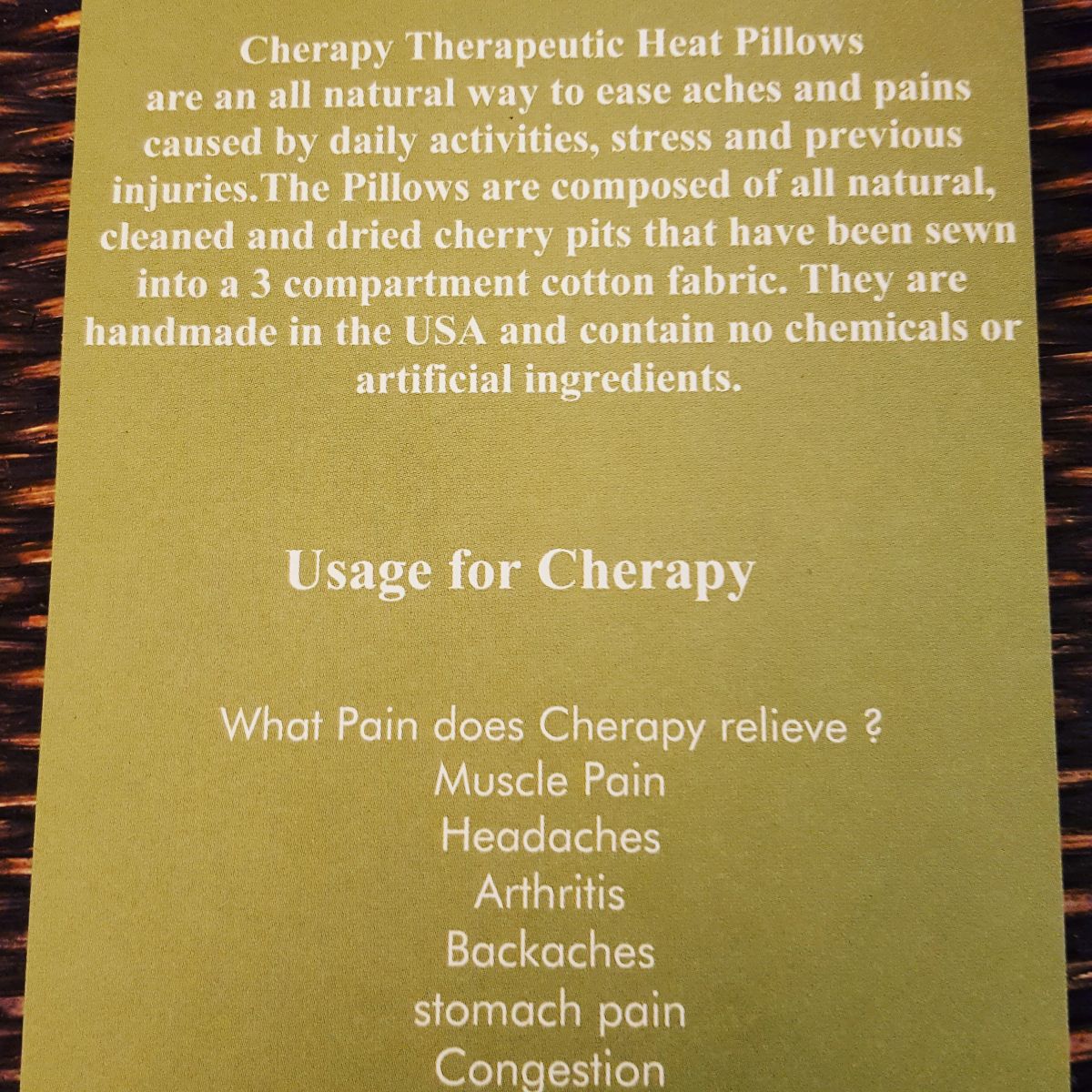 buy 1 Cherapy for $25 or 2 for $40 !